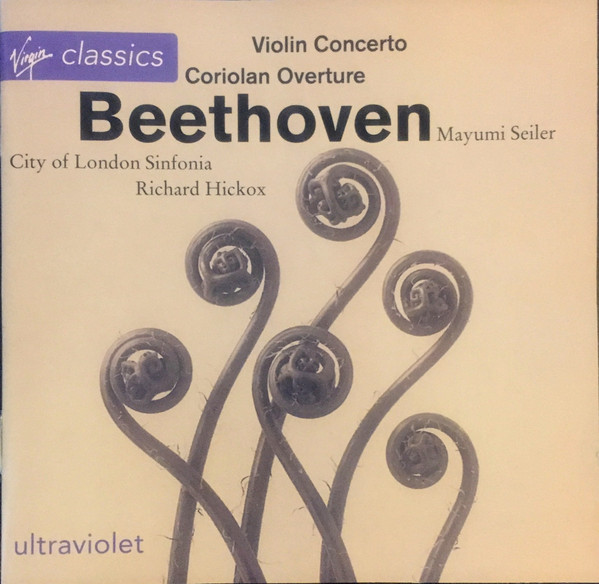 LUDWIG van BEETHOVEN
Violin Concerto op. 61 in D major
Coriolan Overture op. 62
Mayumi Seiler, Violin
City of London Sinfonia
Richard Hickox, Conductor
Virgin Classics 7243 5 61117 2 1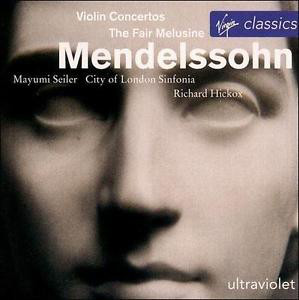 FELIX MENDELSSOHN
Violin Concerto op. 64 (1844) in E minor
Violin Concerto (1822) in D minor
The Fair Melusine, Overture op. 32 (1833)
Mayumi Seiler, Violin
City of London Sinfonia
Richard Hickox, Conductor
Virgin Classics 7243 5 61280 2 6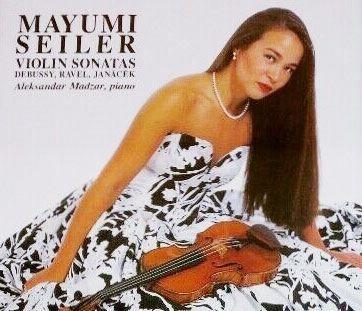 VIOLIN SONATAS
DEBUSSY, Sonate pour Violon et Piano
RAVEL, Sonate pour Violon et Piano
JANACEK, Sonate pour Violon et Piano
Mayumi Seiler, Violin
Aleksandar Madzar, Piano
Victor VICC-184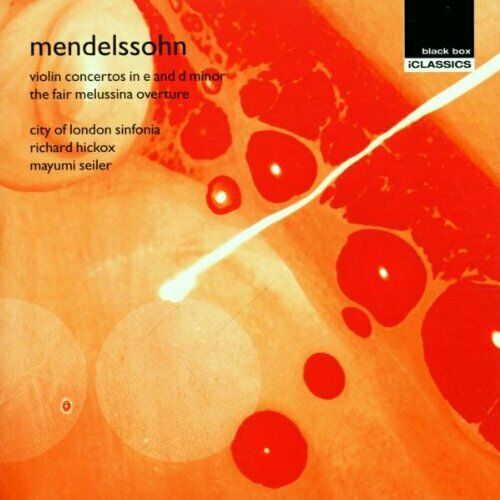 FELIX MENDELSSOHN
Violin Concerto op. 64 (1844) in E minor
Violin Concerto (1822) in D minor
The Fair Melusine, Overture op. 32 (1833)
Mayumi Seiler, Violin
City of London Sinfonia
Richard Hickox, Conductor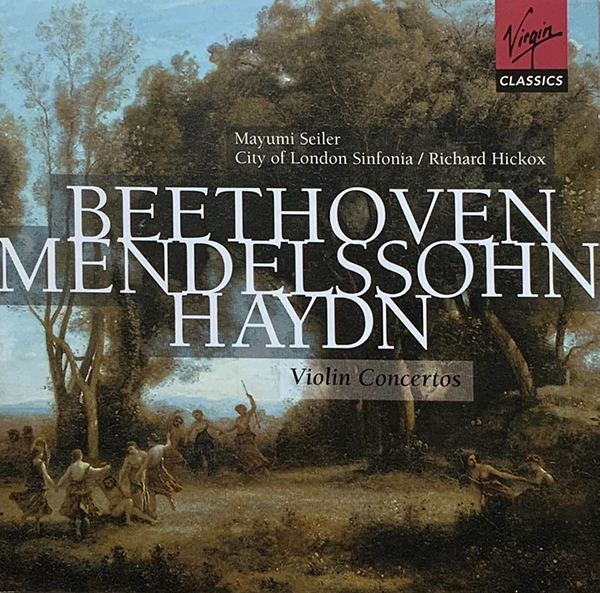 BEETHOVEN
Violin Concerto op. 61 in D major
MENDELSSOHN
Violin Concerto op. 64 (1844) in E minor
Violin Concerto (1822) in D minor
HAYDN
Violin Concerto (Hob.Vlla:1) in C major
Violin Concerto (Hob.Vlla:3) in A major
Violin Concerto (Hob.Vlla:4) in G major
Mayumi Seiler, Violin
City of London Sinfonia
Richard Hickox, Conductor
Virgin Classics 7243 5 61504 2 3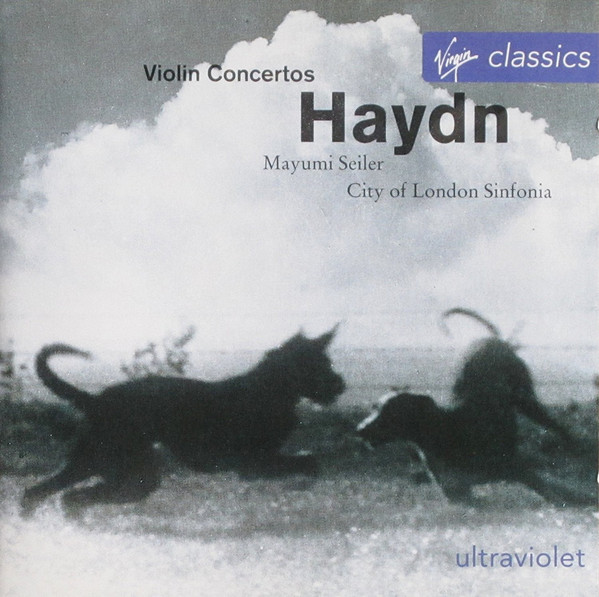 JOSEPH HAYDN
Violin Concerto (Hob.Vlla:1) in C major
Violin Concerto (Hob.Vlla:2) in A major
Violin Concerto (Hob.Vlla:3) in G major
Mayumi Seiler, Violin
City of London Sinfonia
Mayumi Seiler, Director
Virgin Classics 7243 5 61256 2 9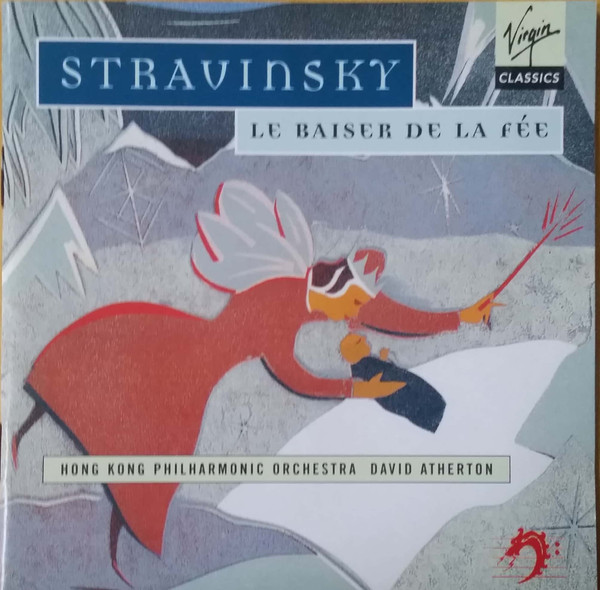 STRAVINSKY
Le Baiser de la Fée
Three Pieces from The Sleeping Beauty
Mayumi Seiler, Violin
Hong Kong Philharmonic Orchestra
David Atherton, Conductor
Virgin Classics 7243 5 61281 2 5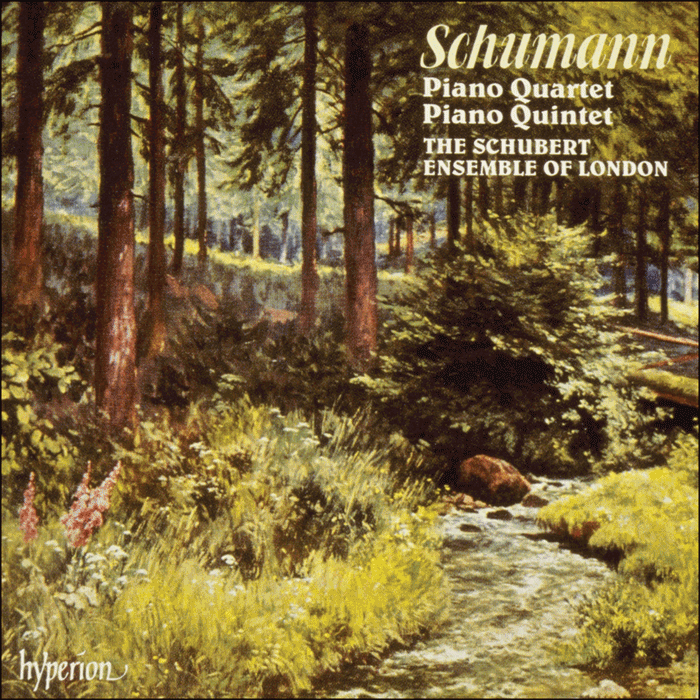 ROBERT SCHUMANN
Piano Quintet in E Flat Major op.44
Piano Quartet in E Flat Major op.47
The Schubert Ensemble of London
William Howard, Piano
Mayumi Seiler, Violin
Douglas Paterson, Viola
Jane Salmon, Cello
with Ralph de Souza, Violin
Hyperion CDA66657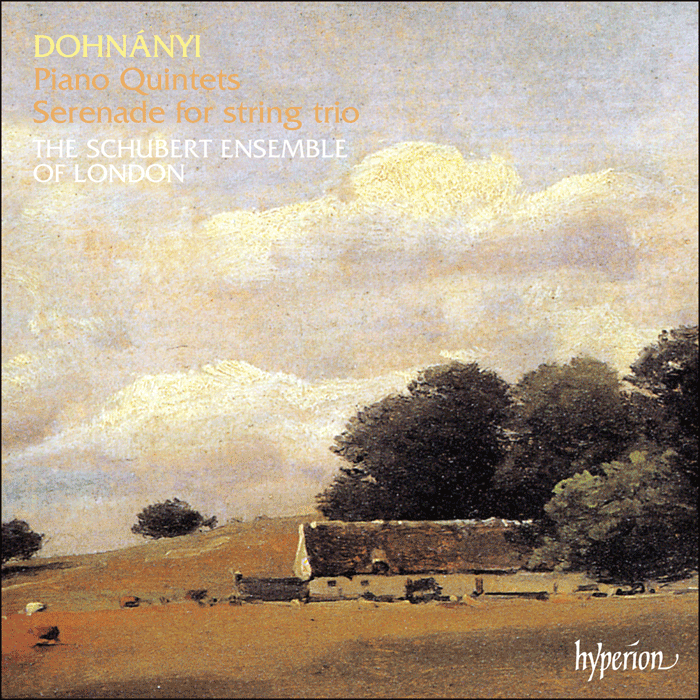 ERNO DOHNANYI
Piano Quintet No 1 in C minor, op 1
Serenade in C major for string trio, op 10
Piano Quintet No 2 in E flat minor, op 26
The Schubert Ensemble of London
Mayumi Seiler, Ralph de Souza, Violin
Douglas Paterson, Viola
Jane Salmon, Cello
William Howard, Piano
Hyperion CDA66786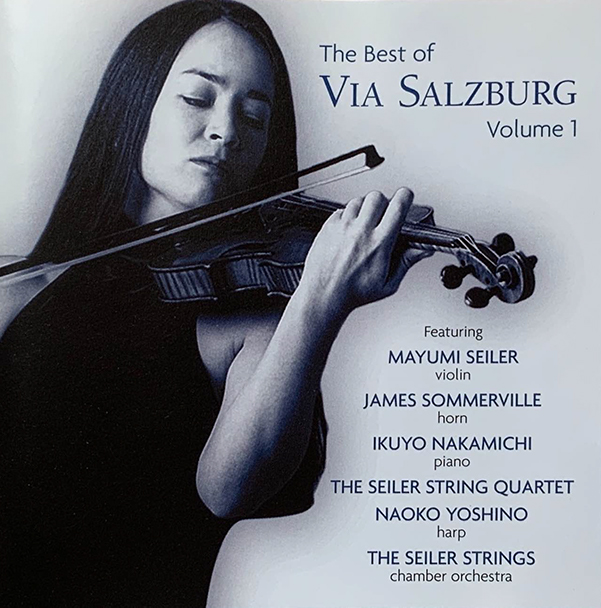 THE BEST OF VIA SALZBURG, Vol 1
GRIEG, Holberg Suite Op. 40, First Mov.
BRAHMS, Trio for Horn, Violin and Piano, Op. 30, First Mov.
VIVALDI, Concerto in G Minor, Op.3 No.11, First Mov.
SAINT-SAENS, Fantasie for Harp and Violin, Op. 124
DVORAK, String Quartet, Op. 105, No.14, Second. Mov.
DEBUSSY, Danses sacree et profane for Harp and String Orch.
MENDELSSOHN, Concerto for Violin and String Orch. in D-.
Mayumi Seiler – violin
James Sommerville – horn
Ikuyo Nakamichi – piano
The Seiler String Quartet
Naoko Yoshino – harp
The Seiler Strings Chamber Orchestra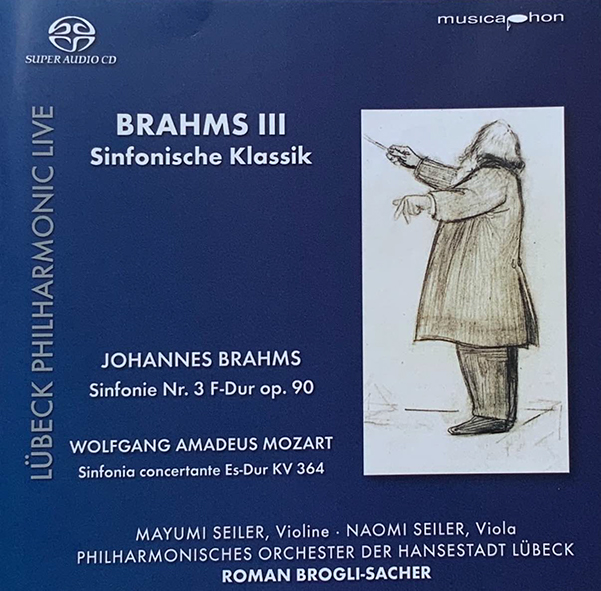 BRAHMS III
BRAHMS, Symphony in F Major, Op. 90 No. 3
MOZART, Concerto in E-flat Major KV.364
Mayumi Seiler – violin
Naomi Seiler – viola
Philharmonic Orchestra of the Hanseatic City of Lübeck
Roman Brogli-Sacher

WOLFGANG AMADEUS MOZART
Divertimento in F
for two oboes, two horns and two bassoons, K.253
Divertimento in B-flat
for two oboes, two horns and two bassoons, K.270
Divertimento
for two violins, viola, bass and two horns:
March, K.445 (320c)
Divertimento, K.334 (320b)
ISM 91/2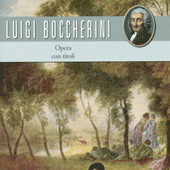 LUIGI BOCCHERINI
Opera con titoli
String Quartet No.60 in C major Op.30 No 6 G.324
String Quartet No.65 in G major Op. 44,4 G 223
Notturno (Duet) No.7 in E flat major G. 62
String Quartet No. 72 in F major Op.36 No.6 G. 336
Mayumi Seiler, Silvia Walch, violin
Diemut Poppen, viola
Richard Lester, Howard Penny, cello
Capriccio 10 453
DISTANCE & ENCHANTMENT
Chamber Works by JUDITH WEIR
The Schubert Ensemble of London