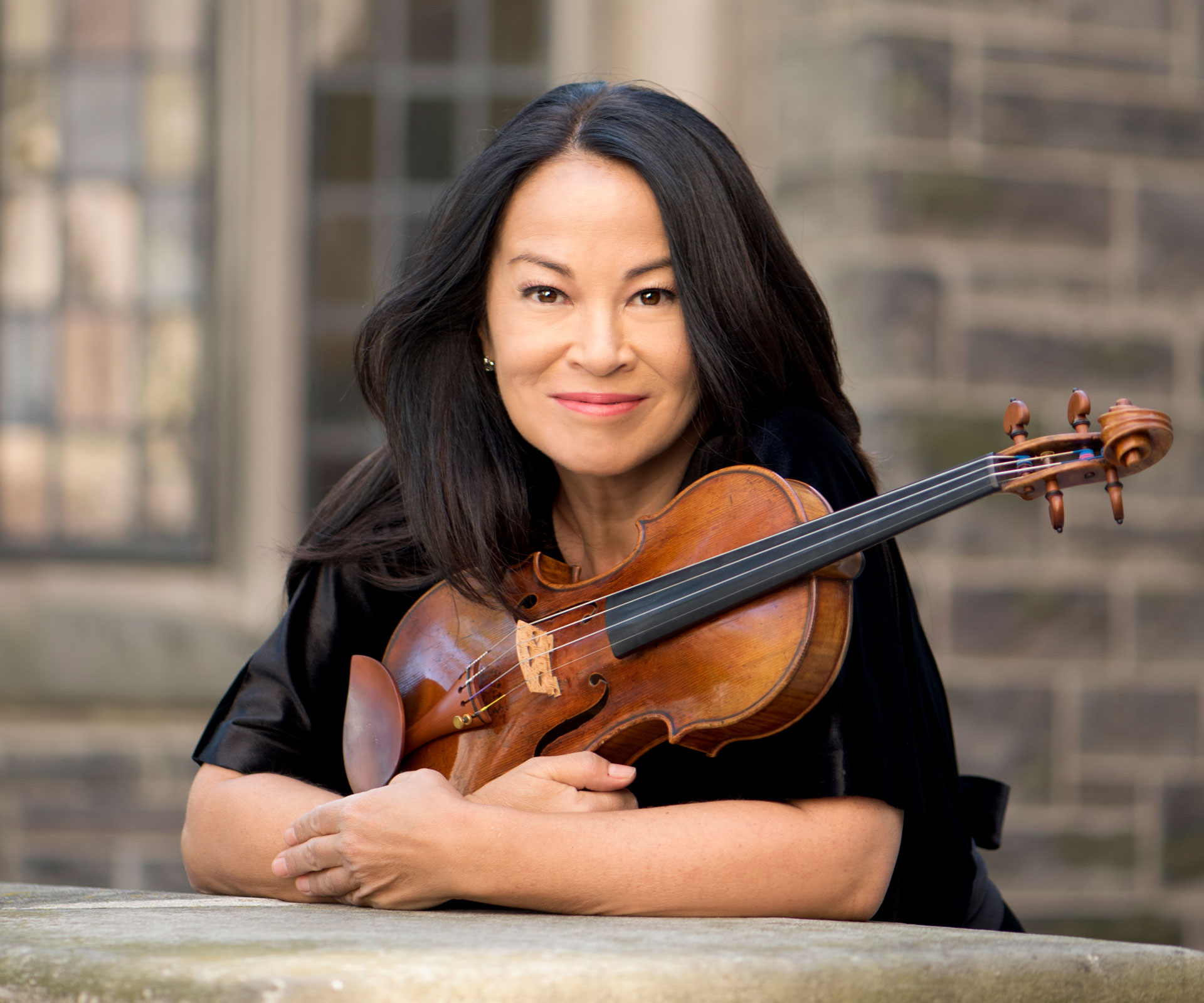 "Mayumi Seiler unites the technical excellence of the Orient with the grand chamber music heritage of Germany"
Strad Magazine feature article
"
Seiler brings an exceptional blend of precision with tonal generosity, finesse with enthusiasm. She persuades you to share her absorption
"
BBC Music Magazine
"It was the classic nightmare of conductors and orchestra administrators…As luck would have it, London-based violinist Mayumi Seiler was in town visiting a friend and valiantly agreed to step in. On two and a half hours notice, with no rehearsal other than a meeting with guest conductor Hugh Wolff 30 minutes before curtain time, she walked onstage to perform Mendelssohn's Violin Concerto in E minor – a work she has recorded for Virgin Classics. Despite the nerve wracking circumstances, Seiler did an admirable job on her TSO debut. The sound she draws out of her Guadagnini violin is remarkably sweet – It's not surprising to learn that chamber music occupies an important place in her career."
The Globe and Mail
"
… it was natural for London-based Mayumi Seiler to turn to it (Mendelssohn Violin Concerto ) when she was asked to stand in for Gil Shaham. Nobody minded the relaxed informality of her outfit, and she was given wild applause after she coursed through the familiar bars with the skill and musical insight of her long professional experience.
"
Toronto Star
"
Seiler was a pupil of the great Hungarian violinist Sandor Vegh, who knew Bartok, and her wayward, highly inflected approach to the music's kaleidoscope of rhythms doubtless had its origins in the Bartokian idiom as Vegh purveyed it. The music certainly lived and breathed, and Seiler's happy band of strings played it for all they were worth. Viva Via Salzburg.
"
The Globe and Mail
"
…in 'Summer' from Vivaldi's Four Seasons…Seiler's solo performance was brilliant – easily better than at least half a dozen recordings on the market.
"
The Globe and Mail
"
She energized the familiar strains [of "Summer" from Vivaldi's Four Seasons] with grace and agility on her ancient Guadagnini violin, drawing from it responsive tones and sound that were refined as well as dramatic. Her ardour communicated to her colleagues, who were abuzz with ebullience in their programmatic passages.
"
Toronto Star
"[In the Brahms' Violin Sonata No.3] Seiler showed real imagination. Phrases were shaped emphatically, but without mannerism."
The National Post
"
Seiler…(is) one whose capacity for passion is never out of view. The ensemble was neat; the energy level was high; and certainly there was no doubt that the music was in more than capable hands
"
The Globe and Mail
"
In recital were violinist Mayumi Seiler and pianist Aleksandar Madzar, both building a substantial reputation on the international circuit. Seiler, who is of Japanese-German parentage and Madzar, who was born in Yugoslavia, attacked the piece with passion and gusto from the opening Allegro molto. Both performers embraced the challenge, responding with sensitivity and intelligence….. that's a welcome change from one or two of the modern crop of violinists. Her technique is totally secure, the sound is wonderfully warm and robust. It's cool fire…
"
Toronto Star
"Seiler applies a singing tone and expressive shaping of phrases to both works."

Toronto Star, review of Mendelssohn Concerti on Virgin Classics
"Mayumi Seiler, a young and very highly regarded violinist…pays more attention to dynamic markings than do many other performers in the catalogue, and when she does add rubato, it is done with artistry and discretion.The slow movement is well handled, and it reaffirms Seiler's well-rounded tonal quality and her impeccable intonation. Let us hope we hear Seiler in a less crowded market."
The Strad, review of Beethoven Concerto on Virgin Classics
"…she is duly respectful of the piece, tackling this most audacious of violin concertos with passionate conviction and a certain amount of technical bravado"
CD Review, review of Beethoven Concerto on Virgin Classics
"…Seiler found a convincing balance between sparkling energy and poised classical style"
The Daily Telegraph, review of Haydn's violin Concerto #1
"Mayumi Seiler plays and directs with conviction, keeping the rhythms firm, and it is a pleasure to hear such natural balance of solo instrument against the strings."
HI-FI News and Record Review